Injectables and fillers are popular nonsurgical techniques for treating facial lines, wrinkles, and submental fullness. These minimally invasive procedures produce relatively quick results with virtually no downtime. These treatments, however, are often palliative, cannot fully correct facial sagging or achieve the same results as surgical or resurfacing procedures. Furthermore, a measured response to a patient's request should always be put into practice. There is a tendency among those increasingly plagued by the cultural obsession with youth and beauty to over pull, overfill and go too far. The result is a loss of softness along with a loss of the personality of the face and its familiar landmarks.
BOTOX® Cosmetic, or botulinum toxin type A, is a protein commonly used to non-surgically reduce or eliminate the appearance of facial lines and wrinkles caused by muscle contraction during facial expression. The injection, referred to as a neurotoxin, works by blocking nerve impulses thereby preventing muscle contraction and secondarily relaxing these lines.
Repetitive treatment has been shown to add longevity to results achieved through muscle atrophy. Hence, there is a cumulative, or additive, benefit to these treatments. Common areas for Botox injections include horizontal forehead furrows, vertical lines between the eyebrows and "crow's feet" around the eyes. Within several days of treatment, expression lines appear noticeably softer and the face assumes a more rejuvenated appearance.
Juvéderm® is a clear transparent gel composed of hyaluronic acid, a natural substance that is found throughout your body. With its unique ability to bind with water, Juvéderm hydrates and adds volume and density to your skin thereby smoothing wrinkles, sculpting lips or shaping facial contours.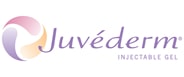 Results are longer lasting than with other treatments such as collagen and since this substance is not of animal or human origin there is no risk of disease transmission or allergic reaction. Hence, no skin test is required. Clinical experience has shown that a residual benefit remains in most treated areas with a volume enhancement that persists beyond reported time expectations. Additional products from the manufacturer Allergan with similar properties include Juvéderm Ultra XC and Juvéderm Ultra Plus XC, each of which contains a local anesthetic to reduce discomfort.
Juvéderm Voluma™, recently FDA-approved, will fill an important niche, that of the cheeks or midface, providing for volume replacement and fullness to areas of the face that have lost volume due to aging. Preliminary findings have demonstrated results up to two years following treatment.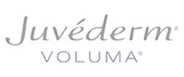 Restylane, from Medicis Aesthetics, is one among several products from this manufacturer including Restylane-L and Restylane Lyft. These products, also composed of hyaluronic acid, are indicated for individual use to add volume and fullness to the skin and thereby restore youthful contours. They also provide for the correction of moderate to severe facial wrinkles and folds. The hyphenated L denotes combination with a local anesthetic to help reduce discomfort.
Radiesse is FDA-approved for the correction of moderate to severe facial wrinkles and folds, inclusive of the nasolabial folds and marionette lines. Most practitioners, however, use this volumetric filler for enhancement of more substantive regions along a deeper plane such as the malar, or cheek, region and the jawline. The natural aging process causes collagen breakdown with a resultant loss of facial volume. Radiesse purportedly stimulates collagen growth thereby providing for long-lasting results.
Fat represents an excellent soft tissue filler. In a procedure referred to as autologous fat transfer, fat is taken from your own body utilizing donor sites such as the abdomen, buttocks, or thighs. Herein, excess fluids are removed using sterile technique and fat alone is then injected into the desired treatment area. Clinical evidence supports a greater longevity of results achieved through this particular technique. Autologous fat transfer has grown into an established procedure for volume replacement and enhancement of the face, breast, and buttocks.
Platelet Rich Plasma / Platelet Rich Fibrin Matrix
Platelet Rich Plasma and Platelet Rich Fibrin Matrix constitute new technology based upon the premise that platelets have the potential to enhance the body's natural capacity for healing. Hence, these systems have been used for this purpose in both aesthetic and reconstructive procedures. Furthermore, these formulations may be used for purposes of volume replacement in most areas of the face and neck with a reported longevity of result in excess of two years, though this does depend upon the areas treated and number of sessions performed.
Kybella is the first and only FDA-approved nonsurgical treatment that contours and improves the appearance of submental fullness.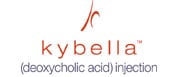 The active ingredient in Kybella is a naturally occurring molecule in the body that aids in the breakdown and absorption of dietary fat. When injected into the fat beneath your chin, Kybella causes the destruction of fat cells. Once destroyed, those cells cannot store or accumulate fat.