About Our Office
Our practice takes pride in the individual attention and care that each patient is provided. Each patient should feel they are valued and important regardless of whether they are seeking a facial or a facelift.
One and one half hour initial consultation personally conducted by Dr. Sherwyn; While comments on Facebook or tweets on Twitter can offer additional means of "support" in matters that are neither time-sensitive nor procedure-specific, the most important social interaction between a physician and patient is still that which occurs face-to-face in the office or the surgical suite. It is about explaining the procedure in detail, outlining expectations and results in a realistic fashion, showing representative preoperative and postoperative photographs as well as providing written materials.
Second consultation gratis; We encourage our patients to return preoperatively as many times as they need, without additional fee, to discuss their options and we encourage them to bring significant others along with them. This helps patients feel valued rather than rushed into making a decision.
Preoperative consultation gratis.
A copy of the doctor's notes from the initial consultation are provided together with printed materials pertinent to the visit; With all of the options and possible outcomes to consider, patients cannot possibly remember everything they are told in the office. Providing patients with written information can help each arrive at an informed decision and choose a procedure that will address their expressed goals.
Accredited operating room staffed by registered nurses and board-certified anesthesiologists with whom the practice has worked for a period of several years.
Admitting and operating room privileges at Lenox Hill Hospital, Manhattan, Eye, Ear and Throat Hospital, and Greenwich Hospital.
Postoperative stay at home, if local, or an area hotel with hand selected private duty registered nurses.
House calls post-procedure to this area location.
All dressing changes and suture removal performed by the doctor not a member of the staff.
Telephone calls by the doctor to the patient post-procedure; The sound of your doctor's voice calling to check on you after a procedure is very reassuring, and, ultimately, isn't this what patients come to us for.
---
Iara Revitte, LE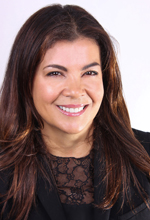 Iara Revitte is a licensed esthetician having received her degree from the prestigious Christine Valmy International School of Esthetics in New York. Her prior education includes a bachelor's degree in public relations and marketing from ESURP-Escola Superior de Relacoes Publicas de Pernambuco, Recife-PE-Brazil as well as the study of esthetics in Sao Paulo, Brazil. She has held positions as spa manager at the Enotel Hotels and Resorts in Brazil, an aesthetician at Diane Young Skin Care in New York and has served as the east coast lead esthetician for the Mila Moursi Skin Care Institute in New York. Her extensive experience has enabled her to perfect her skills and advance her craft providing for her expertise in performing a variety of treatments and services including microcurrent therapy, microdermabrasion, radiofrequency, cavitation, ultrasound, LED, microneedling, photofacials and hair removal. Additionally, she is fluent in Portuguese, Spanish and English.
Services provided by Iara Revitte, LE:
Cavitation
Hair Removal
LED
Lymphatic Massage
Microcurrent Therapy
Microdermabrasion
Microneedling
Photofacials
Radiofrequency
Ultrasound
---
Office Hours
Monday:
Tuesday:
Wednesday:

Thursday:
Friday:
9:00 AM - 6:00 PM
9:00 AM - 6:00 PM
9:00 AM - 5:00 PM
6:00 PM - 9:00 PM (Greenwich)
9:00 AM - 6:00 PM
9:00 AM - 5:00 PM
To schedule an appointment please call (212) 517-2700 or contact us via email:
practiceadministrator@drsherwyn.com
Our staff will be pleased to assist you in any way possible and all efforts will be made to accommodate your schedule.
Payment Options
In the vast majority of cases, cosmetic surgery is not considered medically necessary and it, therefore, is not covered by health insurance. Out of pocket expenses will primarily include the surgeon's fee, the fee for the operating facility and the fee for anesthesia.
Payment for cosmetic surgery is due in full at the time of your pre-operative appointment. This is generally 28 days before your surgery. We provide a number of payment options that may be used individually or combined according to your wishes.
We accept cash, check and the following credit cards:

Financing Programs
In order to help with patient financing, we offer CareCredit. Our office staff will be happy to assist you with any questions you may have in this regard.

CareCredit is a flexible patient payment program specifically designed for healthcare expenses that makes it easier for you to get the treatment or procedures you want and need.
With CareCredit, you pay no up-front costs, no pre-payment penalties and no fees. Plus, CareCredit is a revolving credit line for additional treatment or add-on charges, without the need to re-apply. CareCredit is ideal for treatments and procedures not covered by insurance.